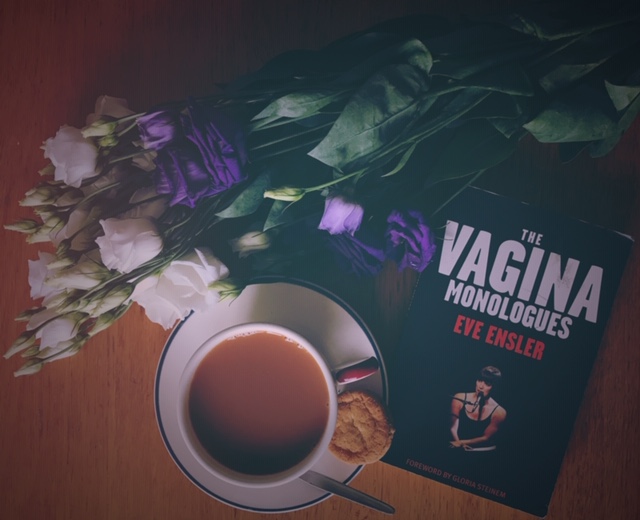 04 Sep

Book Club – The Vagina Monologues

I first heard about this book in my first term of Drama college. I went to Reading to study after the worst 14 months of my life and was excited to get my teeth stuck into something brand new, far away from home and all the trauma. Something that was all mine. I had dreams of being on the stage – not in musicals like most of my fellow class mates – but in some gritty Artaudian/ Berkoff adaptation in some little theatres down the backstreets of the West End.

The Vagina Monologues utterly changed my life.

It was all very humorous in class being 18 years old and being told about a book that not only had the word vagina in the title but everything in the book was about vaginas. All the lols ensued until I got my copy and read it.

I had been raised in a Christian family that wouldn't let me participate in trick or treat and here I was reading about women being proud of sex, orgasms and masturbation. The word cunt is said a million times but instead of it being the harsh derogatory word that is used in cutting insults it used in the way it should be. Beautiful and soft and most importantly, female. It is ours. This book is an exploration into the magical utensil that a female has. The most praising feminist book celebrating the very thing that we as women shouldn't ever talk about.

Eve Ensler knew she was on to something when she started this project. Getting women from all different backgrounds to open up about something that unites us all was a powerful move to make. It is as relent and poignant today as the day it was first conceived in Eve's mind. Vaginas should be celebrated and admired. We should be proud of ours and all the wonderous things it can do.

I know a few people that aren't a lover of reading non-fiction, but I think this is such a spectacular read and not just for women. What you get from this collection is the most intimate and intriguing insight into our most prized possession. Anyone can and should read this. I can't wait for the day that I can finally introduce this book to my daughters. The premise of this book is the entire collection of monologues that Eve would perform from all her interviews she conducted. It also includes incredible facts and snippets from the interviews. It just made me feel empowered and proud of my vagina and my whole femininity.

Eve created a movement and the monologues have been performed by some of the most incredible females including Oprah Winfrey, Winona Ryder, Meryl Streep, Jane Fonda, Cynthia Nixon, Cate Blanchett and one of my utter most favourite Kate Winslet. It is one of my dreams to perform this on stage.

Some of the monologues are hilarious and some of them so deeply saddening it Is hard to shake off. If you manage to get through 'My vagina was my village' without shedding a tear, then you are made of stone. Eve celebrated the 20th Anniversary this year of this collection and this book is probably more relevant today than back then. Now is the time that we reclaim our vulnerability, our sexuality, our mere purpose.

The vagina is a hero that we need to celebrate.