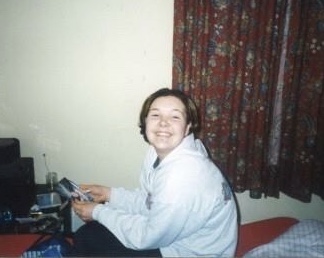 24 Aug

#NirvanaforNatalie

I had an older sister called Natalie. The fact that I just wrote in past tense you have more than likely realised that she is no longer here.
Natalie was 22 when she passed away. We lost her to Sudden arrhythmic death syndrome (SADs). That is such a funny sentence, like we just misplaced her somewhere.

My sister was just the best. She was insanely beautiful, funny (though I think I have matured into the funniest sibling out of us) a bit of a reckless idiot at times but she was ours. I miss her every damn day.

In a few weeks, on the 16th September it would have been Natalie's 40th birthday. All we have is our imaginations to give us an inkling of what she may be doing to celebrate. We don't have a clue really because we have no idea which path she would've chosen to walk down.

One thing that was Natalie was Nirvana. She was prime target for that grunge band to take over her life. Right in the midst of her teenage angst and getting into the guitars and baggy jeans Kurt Cobain sucker punched Nat right in the heart. They were her band. Kurt was her love.

We were on holiday they day we found out he had taken his own life and I hadn't seen pain from loss before quite like it. My god, her heart broke so hard from that news. Along with her friends she spent months cutting out every mention of Kurt and Nirvana from every newspaper and magazine and kept it in a scrapbook. She lit candles and incense and kept pictures of him by her bed.

Nat had even managed to score a ticket to their concert in Cardiff and just couldn't deal with not being able to see him now. Her sadness was horrendous. Music was such a huge part of her and even now the bands that she listened to are still my favourite bands. She taught me all about them and took me to see Pearl Jam and no concert has ever beaten that one.
At first, I had an idea to hold a concert for Nat but it's a big birthday and I didn't want to take over. This effects my whole family not just me so on her birthday we are all going to be together, which is the best present all of us can get for her anyway.

Yet, as it draws closer I still want to do something for her as her present from me and have come up with this idea. On Saturday 15th which would more than likely be the day she would go out with her mates to celebrate her 40th I'm asking everyone to play Nirvana for Natalie. Gather some friends for beers and play it. Play it loud and mosh around. Play it quietly in your car by yourself. Play every album back to back or just one song. Whatever you feel like but just play it and – because you can't buy her an actual beer- donate £3 beer money to the British heart foundation. If you want to up the fundraising ante, then you are more than welcome to. Bake some Nirvana cakes, hold Nirvana karaoke. Nirvana themed fancy dress three-legged race sounds fun. Just do whatever you want let's make it the best birthday Natalie has ever had. This isn't limited to people who knew her either even if you are a stranger but want to join in, do. The more the merrier. Nat's birthday and death anniversary are always so sad, and I don't want them to be anymore.

Also share all your celebrations with me using #nirvanafornatalie. I want this to be a celebration, I want this to be happy and full of memories, laughter and love. We love Natalie and if we all get together even just through social media that love can shoot up and reach her, wherever she may be.

And sing Happy birthday to her real fucking loud.